User Experience research methods and education
Last Updated:
20/03/2022 - 15:25
Developing a Guide for Supporting Remote User Experience Research
TÜBİTAK 1001 Project | 2020-2021
This project aimed to examine the User Experience (UX) Research practices that have been conducted remotely under the social isolation circumstances brought by the COVID-19 pandemic. Within this scope, (1) existing remote UX Research methods and tools were reviewed; (2) the blog posts focusing on global experiences and professional views on UX Research were examined by considering the first six months of the pandemic; and (3) the practices employed by seven UX firms that operate across Turkey were investigated through semi-structured interviews with the managers and employees. The remote working environment caused by the pandemic poses challenges in terms of UX Research planning, inclusiveness in research, building rapport with the user during research sessions, contextual observation, interactive research environment and communication among the team, whereas it has also provided various advantages and opportunities in topics such as conducting research independent of the place, participant management and systematic and efficient work. In addition, it was observed that there are several factors affecting how UX Research is set up and conducted. These factors involve UX firms' efforts in determining the research questions and needs, client firms' approaches towards UX Research, and the researcher's background. It was also found that the definitions for "research validity" in this field deviate from the scientific assumptions. Outcomes of the project reveal the processes, methods and tools used in the remote UX Research practice. In the light of the overall results, a framework for remote UX Research was created involving the issues to be considered, and guidance was developed for supporting remote UX Research activities.
User Experience Modelling as an Education Agenda
BAP 1/AGEP Project | 2017 - 2019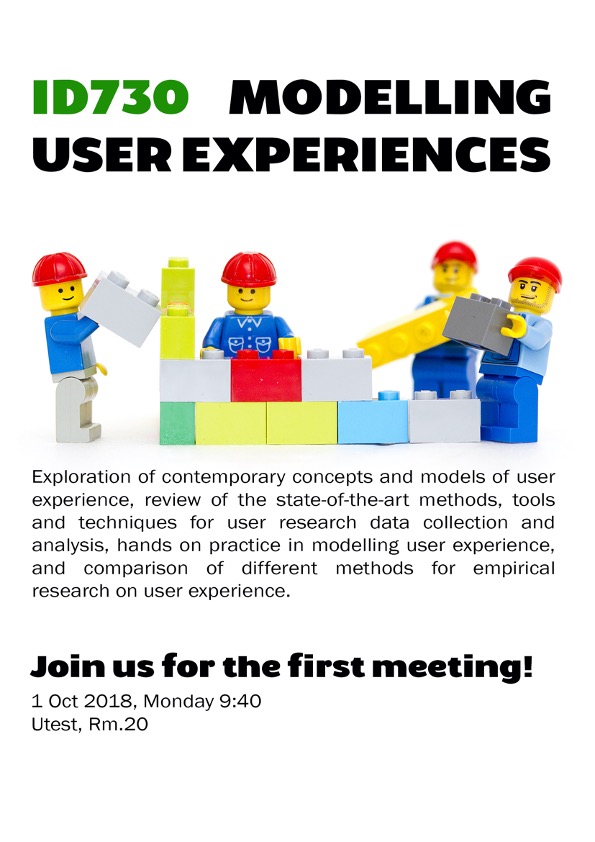 User Experience (UX) is an emerging field in Turkey and there are not any established educational programs specialized for UX education. Lack of such programs is seen as an important drawback which limits the educated workforce in the UX area and sustainability of its practice. Inorder to design for UX, investigating and understanding experiences and modelling them to communicate to the design process is highly important. Therefore, there is a need for educating job-ready practitioners and researchers, who are knowledgeable in choosing and applying user research methods for the purposes of modelling user experiences. By considering this need, this project aims to develop an educational model and education strategies to teach UX research methods and UX modelling. Within the scope of the project, a new graduate course 'ID730 Modelling User Experiences' was developed at METU Industrial Design Department by utilizing the infrastructure of METU/BILTIR-UTEST Product Usability Unit. The education model and strategies were developed based on the observations and feedback gathered during and after the course.